Sale!
4 in 1 LED Therapy Facial Massage Machine
Compare
Description
This product takes about 13000 times/minute vibration, combined with LED Photorejuvenation, 38-42 degree hot compress, EMS micro current stimulation, and after applying the product to skin care products such as eye cream or essence cream, can improve the absorption of skin care nutrition essence, help reduce dark circles / Pouch / puffiness / crow eye, dilute wrinkles, and delay the formation of true wrinkles.
SERIOUSLY BEAUTIFUL SKINCARE TOOL BACKED BY SCIENCE
1.Award-winning, celeb-fave 4-in-1 skin care tool: Creates the ultimate at-home facial by combining four dermatological treatments: Microcurrent, Red Light Therapy, Face Massage and Therapeutic Warmth for smoother, softer, rejuvenated skin
2.Ultimate anti-aging and skin tightening device: Patented and clinically proven to help reduce the appearance of wrinkles, fine lines, dark circles, blemishes, dark spots, puffy eyes, crow's feet in as little as 2 weeks. Fun and relaxing to use. Self-care made easy!
3.Dermatologist approved: This Wand packs a punch to help boost the effectiveness of the Renew Complex Serum, enhancing up to 3x deeper penetration with zero pain for fast, noticeable results within days!
4.Portable & rechargeable: Easy to take anywhere – fits in your bag or purse while traveling or running errands. The wand is rechargeable and lasts for up to 12 treatments per charge! Cable included.
Main Function:
1. RED LIGHT THERAPY:
The optimal range of LED red light at 620nm helps stimulate collagen and improve tissue oxygenation for rejuvenated, plumper skin. Say you want to improve your sagging or wrinkling skin. This is where the red light comes into play.
2. EMS MICROCURRENTS:
Microcurrent facials tighten and smooth the muscles and connective tissues in the face by increasing cellular activity, and have been shown to reduce the appearance of fine lines and wrinkles, tone, and tighten the skin.
3. FACIAL VIBRATION MASSAGE
Sonic vibration improves the skin's appearance at the cellular level, while simultaneously exfoliating and cleansing the skin on a superficial level. Instantly make your skin feel revived with the sonic vibration feature. It mimics the effects of massage and provides a sweet moment of relaxation.
4. THERAPEUTIC WARMTH
Thermal therapy increases skin permeability and blood flow, which results in better absorption of the serum to reach deeper into the skin.
Features:
1. The head can be rotated by 90°, can be used in multiple parts on your face: forehead, under eyes, cheeks, jaw, neck, and upper lip.
2. All metal processes, have more texture.
3. Magnetic charging, beautiful justification,no need to plug and unplug.
4. Soothing heat,pomotes absorption and dilute melanin,allowing skin care products to penetrate directly to the skin.
5. EMS micro current,soothing massage, positive and negative ions wake up cell self-repair function, accelerate the essence of deep absorption.
6. High frequency vibration,relieve fatigue,massage the skin to help remove oily dirt.
7. LED phototherapy,Red light and short wave,accelerate cell regeneration and faculty guarantee synthesis, fight off Melanin precipitation, remove fine wrinkles
8. Intelligent induction, touch start, energy saving and power saving.
9. Mini and portable,convenient for carry.
10. Vibration import,skin care products will be easily absorbed into the skin of small molecules, the nutrition deep into the skin.
Specification
Product material: Metal+PC Plastic
Battery capactity: 350mAh
Power: 1W
Input voltage: 5V
Charging time: 3 hours
Product size: 162mm*16.2mm
Net weight: 36g
Packing List:
1* 4 in 1 Facial Wand
1* USB Charging Cable
1* English User Manual
1* Retail Box same as photo show
How to use this product?
1.Apply proper amount of eye cream or essence to your eyes to make your skin moist.
2.Gently slide the massage head, lift and massage the skin around the eyes, repeat 15-20 times.
Note:when holding the main body of the product and the massage head contacts the skin, start to work, and stop working when you leave.
3.Press the massage head gently to improve the absorption of eye cream or essence. Each point stays for about 10 seconds, repeat 2-3 times.
4.You can also massage the cheek, chin and other parts according to the above operation method.
You can use the lifting technique to make your skin better.
(Tip: the massage head can be rotated to the front, which is more convenient)
5.After use, wipe the massage head with a clean cloth, wet towel (or alcohol cotton)
6.In addition to the eye contour massage, can also massage the whole face and other parts of the body (such as waist, legs)
About charging
1. Insert the USB terminal into customer's USB charging head with 5V output, and direct the Type-C charge head to the charging column at the bottom of the product, which will automatically carry out magnetic suction charging regardless of direction;
2. When the indicator light flickers, it is in the charging state;
3. When the indicator light is always on, the battery is full;
4. When it is in use, it is found that the indicator light flashes frequently. In order to remind of power shortage, it should be charged immediately, otherwise it will stop working;
Warning
1. This product is not waterproof, do not place the equipment or close to the bathtub, pool, washbasin, in order to prevent falling and damaging the equipment;
2. The battery shall be fully charged at least once in three months, otherwise the battery may be damaged due to drying up;
3. When in use, the massage head can only rotate forward (to the front or back), and the maximum rotation amplitude is 90 degrees.
matters needing attention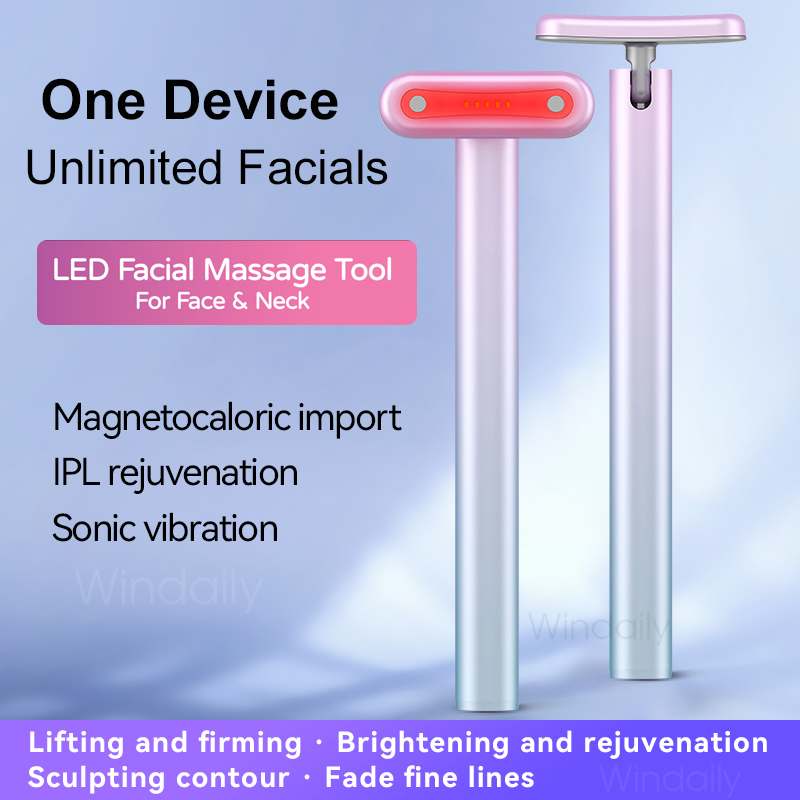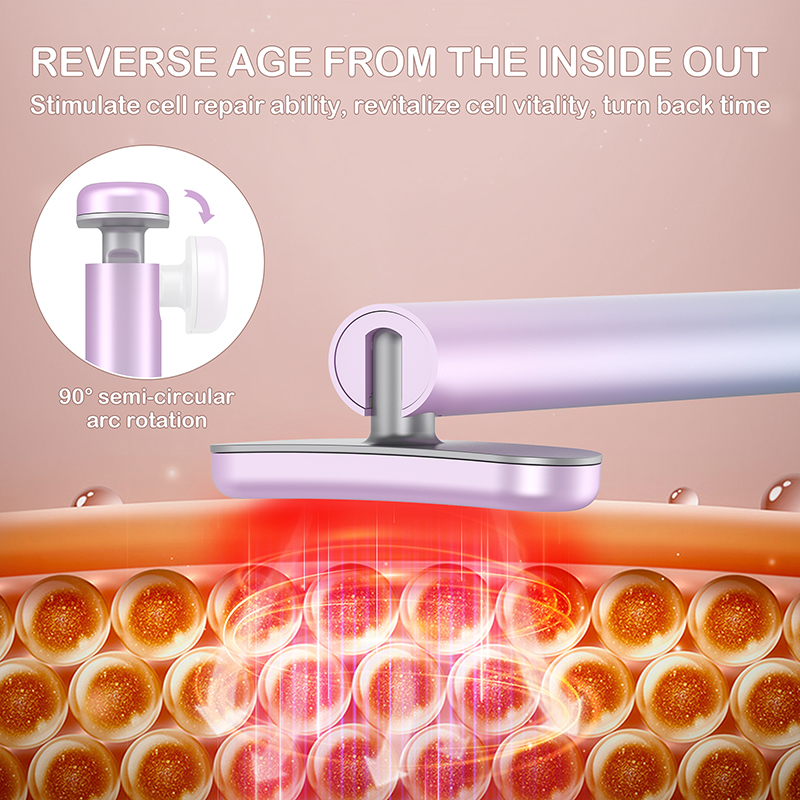 Additional information
| | |
| --- | --- |
| Working Principle | LED,EMS |
| Commodity Quality Certification | ce |
| Function | Skin Rejuvenation,Skin Tightening,Facial Clean,Dead Skin Removal,Anti-acne,Blemish Removal,Anti Wrinkle,Whitening,Lifting |
| Power Source | USB Cable,Rechargeable Battery |
| Standard Voltage | 110V,220V,240V,100V,110V(不含)-220V(不含) |
| Place of Origin | China |
| Size | 163*15.4*13.5MM |
| Type | Microcurrent Facial Device |
| Model Number | 4-in-1 Facial Wand |
| Manufacturing Process | Hand Made |
| Material | ABS & Stainless Steel |
| Brand Name | Windaily |
| Origin | Mainland China |
| Certification | RoHS,FCC,CE |
| Number of Pieces | One Unit |
| 4-in-1 Facial Wand | Red Light Therapy Facial Massage Tool |
| EMS Microcurrent Facial Device | Face Massager |