Sale!
Wireless CCTV System Security Camera
$167.68 – $476.60
Compare
Description
Please select local warehouse for fast delivery
1. Ship from Russian/ Czech warehouse will be Received the Goods Faster.
2. Czech Warehouse supporting 24 countries in continental Europe :Portugal,Spain, France, Germany, Italy, Austria, Czech Republic, Denmark, Luxembourg, Netherlands, Belgium, Latvia,Sweden, Bulgaria,Greece, Romania,Hungary, Poland, Slovakia, Slovenia,Estonia, Finland,Ireland,Lithuania
PS: We have manuals in Russian/German/French/Japanese/Spanish/English, if you need, welcome to contact the seller via AliExpress and write down your order number
Compatible with the following products

Jooan 3MP Security Camera System Audio Recording
Main Features:
*Supports One-way Audio record sound IP Camera;
*the 8 Channel NVR supports up to 8~10 cameras
(If you need to connect more than 8 cameras, please contact us to upgrade your NVR system;
*NVR Supports WiFi Connection /Network cable connection.Wireless WiFi connection between NVR and IP Cameras(The network cable connection is more stable.);
*Waterproof:Metal shell housing waterproof ip camera can be used for indoor/outdoor;
*No access for web/http interface,Supports EseeCloud app control,Widely used in Smartphone, Pad, Tablet, PC.(pls contact us for download URL);
*Night Vision Distance:IR-Cut Array LED Lights up to 30m Night Vision Distance;
*Supports Motion Detection,Human Dection
*Alarm Notification: APP messages notification, Warning notification ,Email notification(parts of phone brand supported, email notification not supported)
*Upgrates to H.265+ encode,it save your HDD storage space;
*Supports multi-languages: English,Russian,French,Spanish.,etc;
*Supports connect hard drive storage:it could full-time loop recording, when the hard drive is full, the old video will be covered automatically.
*Hard drive:It supports hard disks with a memory of 500GB to 6TB. It is recommended to use a monitoring hard disk. The interface specification is SATA II. The memory is 1-2T. The hard disk size is 3.5 inches. It supports hard disks with a memory of 500GB to 6TB. It is recommended to use a power supply of 12V3A or above for hard drives above 2TB, and a power supply of 12V5A above 4TB.
*Supports cloud storage (need to pay according to the system prompt to choose a package)
*Free gifts: 1pcs Antenna Booster and 1pcs Warning Stickers(it included in the package) .
*P2P Remote Access/Multi-User: P2P technology let you be able to view the live footage wherever you are, just with the P2P account on the app via your Smartphone or tablet.
*About Power: NVR is12V2A power plug,camera is 12V1A power plug, EU/US/UK/AU plug is all available.(no battery inside)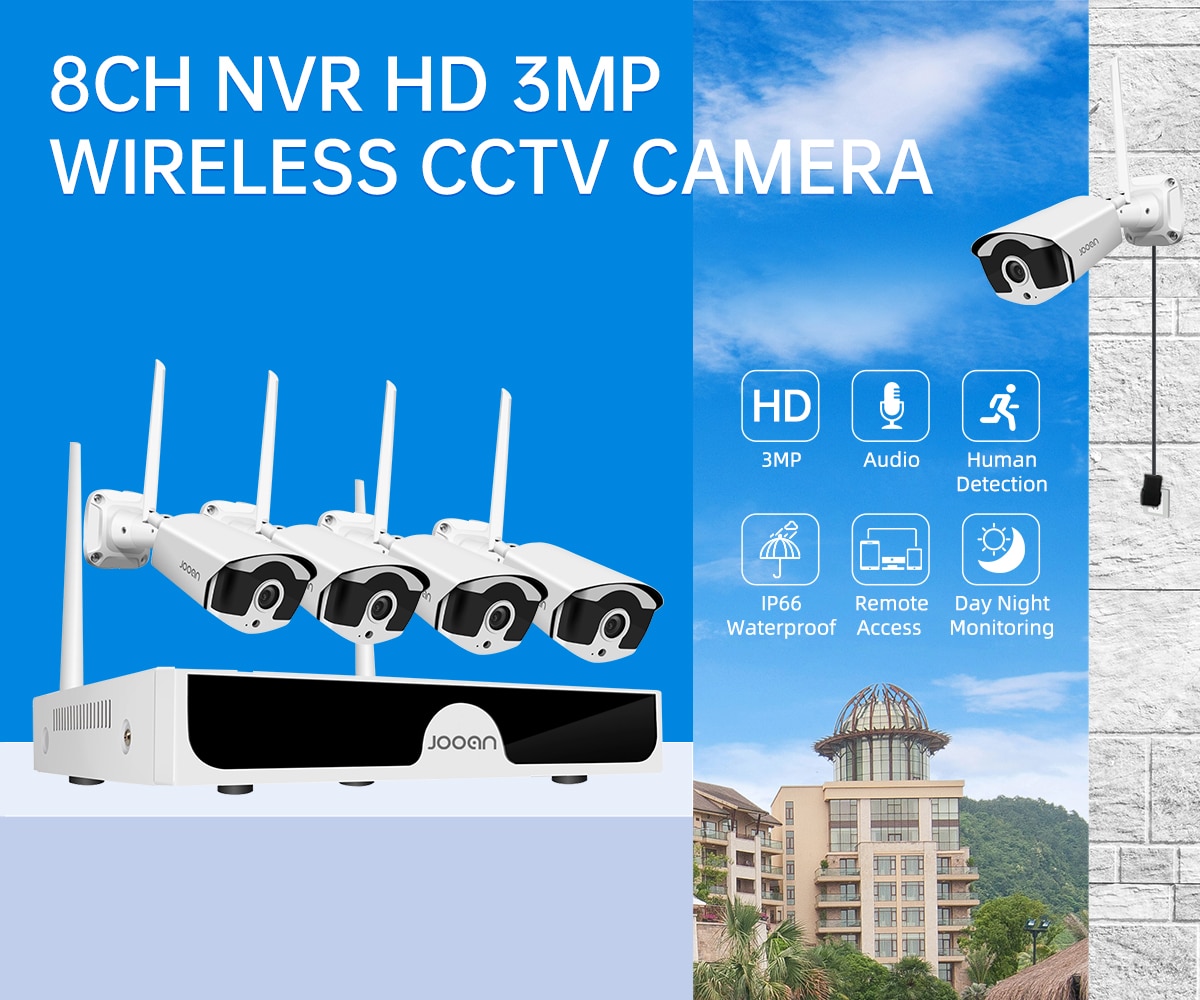 Strong Wifi Signal
Theoretically, it's maximum wireless distance is 50M if no any baffle in the open air.
this wireless system uses the latest wireless cascading technology. When the camera is far away from the NVR, wireless cascade technology allows the camera to transmit the signal to another camera closest to it. The wireless cascade technology greatly improves the transmission distance and stability.
Humanoid Detection & Email Alerts
when the camera detects humanoid movements, the system will send out an alarm (Show message to APP, Send email, system buzzer),reduce false alarms and improve detection accuracy.You could know that someone is approaching your home anytime, anywhere.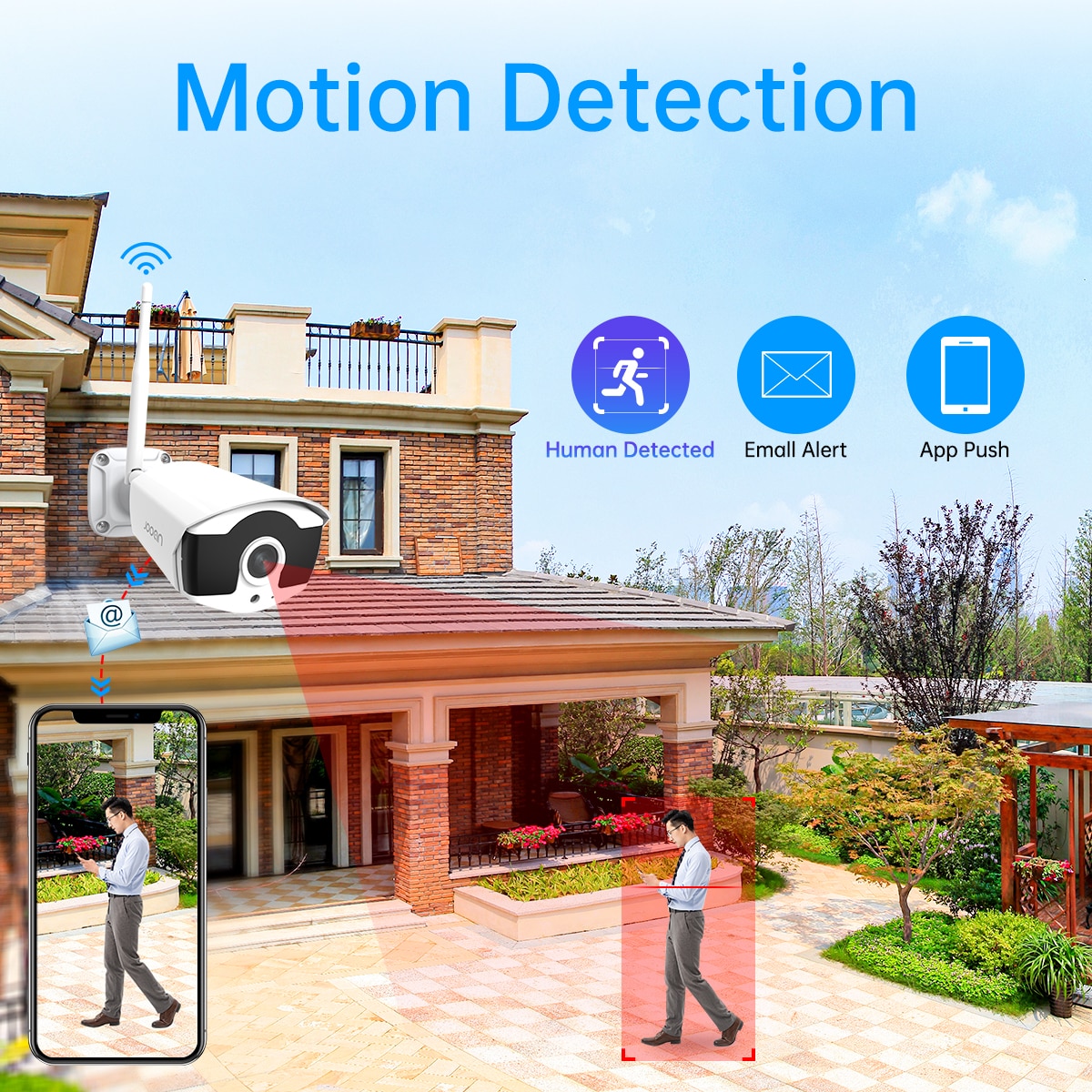 3MP Super Clear Images
Ideal for home or business 3MP(2304 x 1296) offers exceptional Full HD resolution and quality enhancing efficiency and monitoring capabilities.
Day Night Monitoring
Wide angle & long distance
75 degrees wide angle 3.6 mm lens, up to 30m IR distance

Waterproof,One-Way Audio Record
this surveillance camera has a body and housing with an IP66 waterproof rating. So you can feel free to install it outdoor, like in your garage, backyard, or anywhere else. It can stand harsh weather conditions, including rain, snow, intense cold and heat(-10℃+-50℃)
the camera built-in a integrated microphone let you hear the sound around the camera,records what people say, make it authentic with sound video recording.
Had disk storage video
this wireless system supports hard disks with memory from 500GB to 6TB. It is recommended to use monitoring hard disks. The interface specification is SATA II. The memory is 1-2T. The hard disk specification is 3.5 inches. It is recommended to use a power supply of 12V 3A or above for hard disks above 2TB. It is recommended to use a power supply of 12V 5A above 4TB.
Choose the newest version:8CH monitor 4 camera
If you choose 8CH monitor 4 camera,no need buy extra monitor.
Easy To Install,Plug and Play
It can be quickly and easily setup Instantly see live video using your computer, tablet, or phone from anywhere.
Don't need extra power cables or adapters or switch.
Easy Access Via Free Mobile APP & PC Software
1.Connect the WIfi NVR to your router by network cable.
2.Download the free App " EseeCloud " from Google Play / APP Store
3.Run the App and register an account (for first time using).
4.Login App and click the button '+' to add devices.
5.You can add the devices by auto search or scan the NVR device ID.
6.You can view the cameras video on your phone

PC/Laptop View: Windows/ MAC System: CMS Software. You can also view the live view from computer via IE.
3m/9.8ft long Power Cable for the CCTV Camera
Set a camera as repearter
IF there are too many obstacles ,you can try to set camera as a repeater to strengthen signal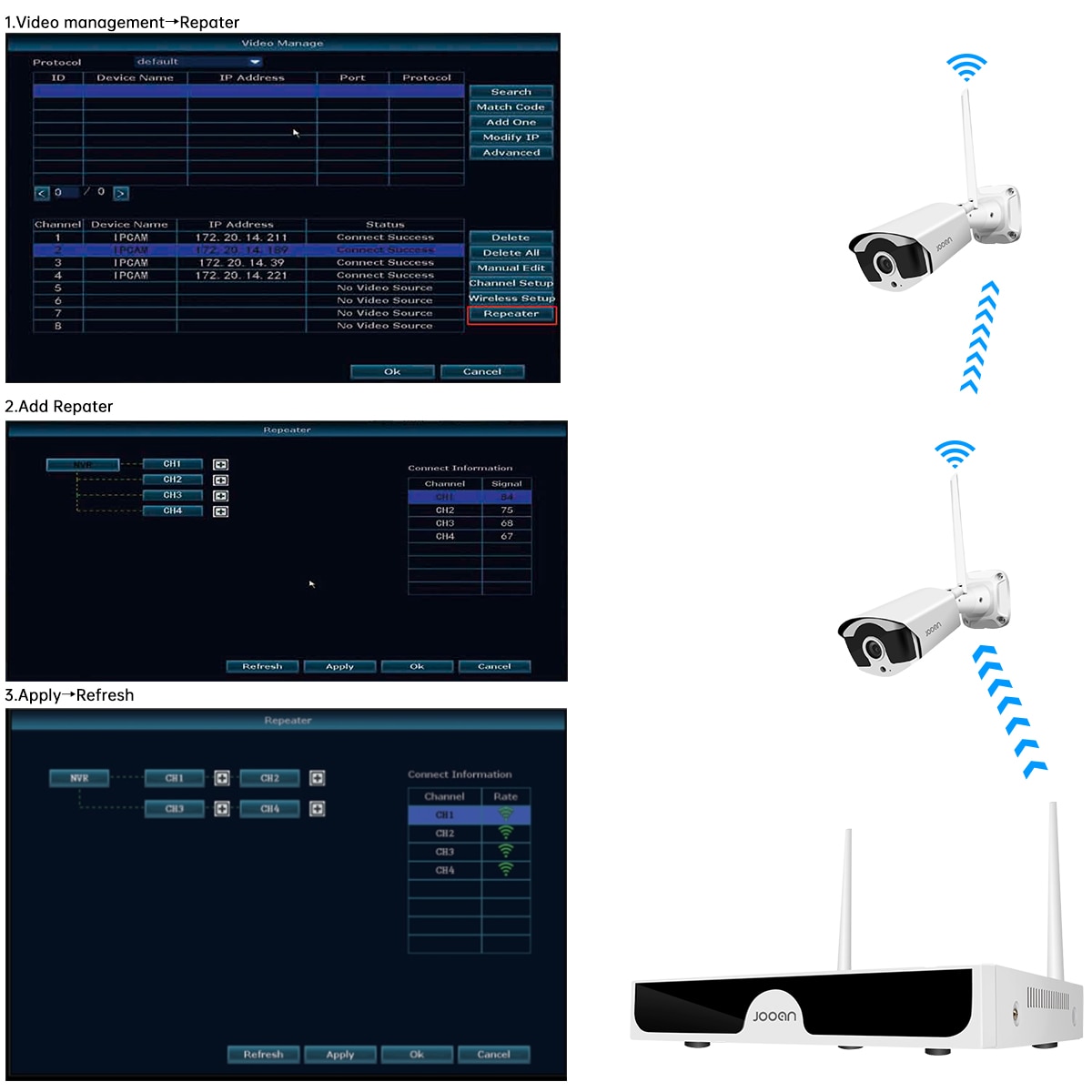 Auto Pairing
Auto pairing,wireless connections between the cameras and NVR,Free from complex cables
Unique Heat Dissipation Design
Heat transfer quickly from copper panel to aluminum alloy material body,extend of camera life
Support Multi-Language
English,Russian,French,Italian,Spanish,Germany,Korean,Japanese.,etc
H.265+ Video Compression
H.265 More Clear , HD resolution offer you best image quality in a lower bit rate, save storage space.
How to install hard drive
1.Loose the screws which are fixing the box cover;
2.Push forward cover to the end and remove it;
3.Connect the hard drive to the DVR System;
4.Put screw to fix the hard drive;
5.Put the cover back and install the screw
;
Easy installation
1.Screw the bracket base to the ceiling or the wall;
2.Loosen the nut;
3.Adjust the angel of the camera;
4.Tighten the nut to fix the angel.
Tailored for you
Various specifications:8CH NVR+4 Cameras;8CH NVR+6 Cameras;8CH NVR+8 Cameras;8CH NVR+Monitor+4camera
8CH NVR 4/8 Cameras including
Package Including
8CH NVR*1
3MP Camera*4/8
NVR Power Supply*1
Camera Power Supply*4/8
Mouse*1
Network Cable*1
Screw Bag*4
Antenna*1
Warning Card*1
HDMI cable*1
Manual*1
Hard Drive: None/1T/2T for Select

JOOAN IPC Router(Not in the package, need to purchase separately)
Repeater Extend WiFi Range for Home Security Camera System Wireless (Not in the package, need to purchase separately)

FAQ
1. Q: How many cameras it support
A: This NVR is 8CH NVR, it means you can connect up to 8 cameras. You can buy additional cameras in our store
2. Q: Can this NVR work with other ptz camera?
A: This NVR only work with Jooan camera in the set and jooan 3MP PTZ camera. more details, pls contact us.
3. Q: Can I monitor this system from the cell phone?
A: Just install Eseecloud on your phone, make your NVR connect to network via network cable. Add NVR to Eseecloud. Then you can remote monitoring on your phone
4. Q: What's the first admin Password
A: The default user name is "admin",the default password is null,that's mean empty.
If you set a private password but forget it, pelase kindly contact us to get the reset method
5. Q: When the HDD is full,what should I do
A: If HDD is full, the new recordings will automatically overwrite the prior recordings. If you need the prior recordings, pls backup it to U disk
6. Q: What's the format of HDD
A: Dear, we suggest a professional monitoring HDD. Please choose an internal SATA III 3.5″ hard drive. You may refer to the Western Digital AV-GP line of hard drive, the Seagate pipeline of hard drive, as well as Western Digital Purple series. Our DVR supports 500GB to 6TB. We recommend 1TB to 2TB.
7. Q:The cameras are wireless?What is the power supply method
A:This camera connect to NVR via WIFI. but they need to power supply by DC. so it need the power supply
8. Q: I want to buy this system. What's plug I will get?
A: If you choose from China, we will ship it according to your country. If you choose ship it from CZ or RU. it is EU plug. if you need other plug. pls contact us after you place the order.
9. Q: Connected according to the scheme to TV via HDMI cable. Turned on the TV, the picture is not displayed. what should I do
A: Dear. pls check if your tv have changed to HDMI model. then check the your screen size.we suggest that 19-40inch
10. Q: Can I connect this nvr to network via WIFI?
A: This nvr only work with network via network cable. it cannot support work with WIFI at present
11. Q: Can i remote view the video on my pc and smartphone?
A: Yes, you can easy to get live streaming or playback videos via free IP Pro3 or EseeCloud APP on iOS & Android devices, through free EseeCloud Client software on Windows or Mac.
Additional information
| | |
| --- | --- |
| Brand Name | JOOAN |
| Origin | Mainland China |
| PCS of Camera | 4PCS,8pcs |
| Certification | CE |
| TV System | NTSC,PAL |
| Video Input | 8 Channel |
| Cable Length | None |
| Model Number | wireless camera |
| Smart home platform | NONE |
| Resolution | 1440P |
| Color | White |
| Video Compression | H.265+ Video Surveillance |
| Power Supply | 12V |
| Waterproof Camera | IP66 Waterproof IP Camera |
| Camera Feature | 3.0MP,Wireless,Metal Shell ,Indoor/Outdoor; Day & Night |
| Hard Disk | None 1T 2T for Select |
| NVR | 8CH NVR |
| HDD Interface | 3.5SATA, Support 500GB up to 4TB |
| Camera builts microphone | IP Camera Audio In |
| Type | Wireless CCTV System |
| Security Type | Security Camera System |
| WIFI Camera | video surveillance wifi |
| Wireless CCTV Kit | CCTV Camera Security System |
| Material | Metal Shell |
| Waterproof Rate | IP66 |